Last week we pointed out how a lot of recent news about diversity in leadership in Canada wasn't that great.
Well, we're happy to flip that coin a bit this week to report on some great insights, reports and articles that have been recently published!
DiverseCity onBoard receives United Nations "Intercultural Innovation Award"
You may have heard this already.
Earlier this week, at the fourth UN Alliance of Civilizations (UNAOC) Forum in Doha, the DiverseCity onBoard project won second prize in the Intercultural Innovation Awards. DiverseCity onBoard was chosen from over 400 proposals from 70 countries considered for the award. Find out more, and watch the video of Cathy graciously and eloquently accepting the award here: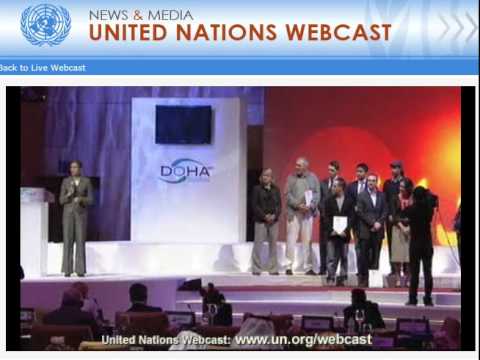 Here's our official media release.
Some additional coverage/insight:
We're all really, really proud and excited for this international recognition. It's something that doesn't happen without a lot of great people (our candidates and the organizations who bring them onto their boards), partners (CivicAction) and our entire network (you!). So, thanks!
But that's not all! The week has been filled with some additional stories we think you may want to know about.
Companies tend to "get it" from a consumer/market perspective
Vancouver Sun's Chinese-language website lures fast-rising ethnic group (Douglas Todd, Vancouver Sun)
And they're not the first to get it. The big five banks all provide services, at branches and online, in multiple languages, including investing in websites that for multilingual/diverse clients (not cheap!): RBC (Chinese), TD (Chinese, South Asian), BMO (Chinese), CIBC (Chinese), Scotiabank (entire portal in eight languages).
And it's only growing:
We have a competitive opportunity, let's make sure business realizes it.
What about from an internal organizational perspective?
Ryerson University released a report this week that provides some insights: The Diverse Organization: Finding Gold at the End of the Rainbow.
Researchers found that the more organizations embraced elements of diversity in their corporate culture the more prosperous the company became and the happier and loyal its workforce. "When you have an inclusive corporate culture, recruiting top talent becomes easier, group processes will be enhanced, which means employees are more likely to stay, which, in turn, increases the company's bottom line," said Ryerson Professor Kristyn Scott, lead author. This isn't at all a new theory, as I discovered this week.
Employee "happiness" (or engagement) has actually been quantified, and proven to impact a company's bottom line.  Here's a sampling of studies and results. This seems to make the Ryerson report quite important, as Michael Hlinka at CBC's Metro Morning pointed out in his segment,  Happy Means Productive.
More:
There is an opportunity here to further the diversity discussion, deepening the business case for companies that may still need to be convinced.
Also this week, we saw some great articles that support this further
More? OK. Last week we mentioned the Deloitte report Welcome To Canada. Now What? Unlocking the Potential of Immigrants for Business Growth and Innovation. You may have watched a recording of our Cities of Migration webinar: Dialogue on Diversity: Setting the Stage for Business Growth and Innovation, which included Deloitte's Jane Allen, Partner and Chief Diversity Officer.
This week, Cities of Migration project posted the webinar recording: Closing the Gap: City Leadership on Employment and Workforce Diversity that looked specifically at how city governments, as employers, need smart strategies to effectively recruit, develop and retain a diverse workforce to remain competitive in the marketplace and be reflective of the constituencies they serve.
And south of the border?
Breaking News! Skilled immigrant workers are here, they're ready, they'll improve your bottom line
This week, TRIEC reminds us that skilled immigrant workers are coming to Canada with their talent intact.
"We don't see ourselves as visible minorities. We are well educated and bilingual. We are world-class immigrants and we've come to contribute to this country." (Fabiola Sicard, quoted on the TRIEC website)
There are employers and networks that understand this: Foreign-trained workers expand Canada's options (Gerry Macartney, London Chamber of Commerce, London Free Press). More and more companies, industry associations and networks are getting it.
Resource firms worried about skilled worker shortage, survey finds (Dave Cooper, Edmonton Journal)
"In an attempt to ease the shortage, some firms were trying to recruit from other countries. 'For instance, some of the open-pit mining companies have a strategy to recruit people from Australia and South Africa because these skills are easily transferable.'"
Of course, they probably do have these strategies (full report PDF) and that's great.
But, there is a missing piece: what are the odds that some of these highly skilled people are already here? Quite high.
Alberta firms would do well to connect with the Calgary Region Immigrant Employment Council (CRIEC) and Edmonton Region Immigrant Employment Council (ERIEC) and glean some data on occupational profiles of immigrants who have arrived in the past five years…
If you're not in Alberta, don't worry, we've got some Immigrant Employment Councils (IECs) you can connect with, or visit hireimmigrants.ca for everything you need to know about recruiting, retaining and promoting skilled immigrants.
A call to action
We indicated, above, that more and more companies understand that increased diversity has been connected to employee engagement, which has been shown to increase the bottom line. But if you're still not convinced, some groups and articles provide additional calls to action for you to consider:
While we're celebrating DiverseCity onBoard and other projects, it's up to us to remind our companies, cities and regions that increased diversity is not just good community, but it's also good business. It's about increasing our economic prosperity.
For employers, the business case cannot be stronger.