This online discussion featured Alan Broadbent, Chair, Maytree, who described the power of public policy to transform society, and explored why some ideas resonate with decision-makers. Sherri Torjman, Vice-President, Caledon Institute of Social Policy, highlighted and described a few key recommendations from the policy document.
The publication, Charting Prosperity: Practical Ideas for a Stronger Canada, presents policy proposals intended to contribute to Canada's prosperity while protecting the country's most vulnerable. It presents more than 50 ideas, covering five thematic areas:
income support and social security;
democracy and participation;
inclusion and protection;
immigrant and refugee selection; and
diversity and integration.
Find out more and download Charting Prosperity: Practical Ideas for a Stronger Canada.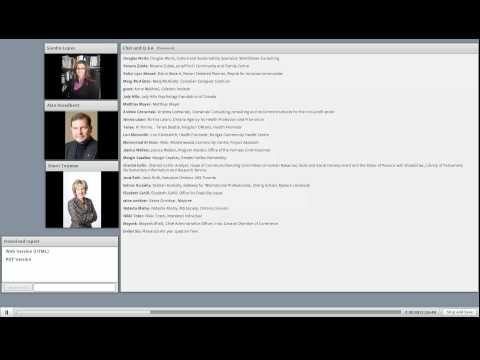 Presentation overview
Alan Broadbent
Alan spent some time reflecting on the importance of a policy lens in all the work that Maytree does.
The best way to overcome big issues and problems is to change the way society thinks and acts. It is by tapping into the power of our collective will, and attendant large public budgets, that we can take the great strides forward. The greatest advances in the wellbeing of populations have always come from public measures.
So Maytree has focused on public policy as the biggest lever available to us in building stronger and more equitable societies. It is our view that without a public policy lens on our work, we are just engaging in a plethora of pilot projects which miss that chance to be transformative for more than a relative handful of people. And while I would never scoff at helping a handful of people, it seems more responsible to our public obligations to seek the leverage that could scale up and multiply the positive impact of our work. In our view, that comes from affecting the way we act together.
We at Maytree have clearly embraced this principle, and have put a policy lens on all of our work. Our publication, Charting Prosperity: Practical Ideas for a Stronger Canada, is a view through that lens onto our work at Maytree and in various organizations we support.
Persuasive Policy
Our support of policy work is broad and deep. And it is driven by our clear sense of what makes effective policy, which we think of the three I's of effective policy:
Ideas
Instruments
Investments
Every policy must be driven by a good idea which holds real promise of positive change, change that will improve the lives of people and communities. Those good ideas must be embedded in instruments that will work, that can be implemented successfully, and that won't encounter insurmountable political barriers. The instruments must be something that governments, or businesses, can say "yes" to. And there must be investment to make it happen, either investment by governments for public policy, by business for changes to corporate employment or social engagement policy, or by institutions.
Ideas, Instruments, and Investments must all be in place, and trying to achieve change without all three being present is terribly difficult.
Paying attention to policy is paying attention to the biggest lever for change you will have. Get good at it.
Sherri Torjman
Caledon's policy recommendations fall into three main categories, which can be useful for anyone working on policy:
Incremental - change to an existing measure, such as:
increased benefits in both absolute and/or relative terms (i.e., amount and relative to cost of living)
extension of benefits (i.e., duration)
expanded eligibility
Example: incremental reform: improve the Working Income Tax Benefit (WITB)
Structural – more complex
introduction of a new program or benefit to an existing system
significant redesign of an existing measure
extension of an existing measure to a new population
Example: structural reform: make refundable the caregiver tax credit and the infirm dependant tax credit
Architectural - working at the system level
reconfiguration of several related programs or benefits, could include shift in jurisdictions of responsibility
introduction of new measures
associated incremental and structural reforms of existing measures
Example: architectural reform: implement a Basic Income Plan for Canadians with severe disabilities
There are good policy precedents from around the world that can help us to make the case for some of the work we're doing here.
Q&A
Alan and Sherri took questions for the final 30 minutes of the webinar.
How does Maytree choose projects? What makes a program interesting or important to support?
It has to be in Maytree's general mandate of anti-poverty work, has to be innovative, and has high likelihood of impact/solution to the presenting problem. It's important that any proposals or ideas that are brought to Maytree must include ideas about instruments that would be effective, costs of these solutions and who would bear these costs.
We use an analytical framework to assess any proposal (similar to the previously mentioned three I's of effective policy) – ideas, plan and people. The idea has to be a good idea, with competitive advantage, that has a good chance to be an effective solution to a set of problems. There has to be a good and credible plan in place of how you're going to get traction around that idea. We have to have faith that the people involved can actually achieve this.
Maytree is most interested in solutions. We have to go beyond a "culture of complaint", and working with others to innovate solutions and bring forward ways to solve problems.
If there was one idea that could be implemented now from Policy Insights that would have the most impact, which would you choose?
Alan – Extending the municipal vote to permanent residents is an idea whose time has come. You shouldn't have taxation without representation. People paying taxes in a jurisdiction should be able to cast a vote for the leaders who are going to be spending that money. Find out more (PDF).
Sherri – Increases to Working Income Tax Benefit (WITB). People experience the difficulties of trying to make ends meet with rapidly rising costs. There is a general sympathy to advance this policy proposal.  At the same time, having other jurisdictions on board with provincial poverty reduction strategies gives WITB some momentum. They are looking to changes at the federal level in order to effect their own proposed reforms  and would view  favourably that sort of change. Find out more (PDF).
Can you comment on handling issues where one jurisdiction believes it is another's issue (i.e., provincial, federal responsibilities) and vice versa to lead to inaction?
Alan – It is a huge issue in Canada. Very often when governments want to avoid doing something, it's a good stalling technique. Regarding the opportunistic nature of policy windows opening and closing, it's very difficult to predict when you'll get both political and public service alignment. When you involved other jurisdictions, the complexity increases yet again.
Sherri – This happens very often in social policy. There is a great advantage, in this case, to embarking on architectural reform, where you really are talking about federal and provincial/territorial governments coming together to resolve a common issue. If it's possible to get your concern raised at one of the many federal-provincial/territorial  tables on the particular issue, that can be very helpful  to ensure joint action.
There is a growing gap between the haves and have-nots, which requires a shift at the values level in the economy (e.g., the presumption that maximizing growth is a first principle). What do you suggest for addressing a values-based, structural problem?
Sherri – Before you propose specific reforms, you need to  talk about values. Caledon has  put forward documents that speak to the issue of values, such as "Reclaiming our Humanity." Values form the foundation and basis for a caring society.
Social and economic well-being are intrinsically linked. We're seeing more and more research coming out in mainstream research, from groups like the OECD.  We need to  build on these arguments to continue to make clear links between economic and social well-being.
The growing importance of measures like the well-being and happiness indices helps build the values case. . Some of this work is being done by top economists and is gaining traction.
The recent book The Spirit Level documents the outcomes and high costs of inequality. We can work this evidence into the values-based narrative to help show the serious personal and societal problems associated with widening inequality.
Alan – It's important to have a narrative on values and for groups to be clear, in public, about what their values are. Frank Sharry talks about the importance of volume and velocity in communications (http://maytree.com/blog/?p=1698). If we don't do that, someone else will do that for us. In policy terms, it's not enough to do this. However, it's important to recognize that decision-makers we're seeking to influence are not going to spend a lot of time with value statements/narratives. They want to be brought something they can say yes to, not just problems. While we must make the values argument, we must also come up with the short and pointed policy proposal that can be implemented and will work.
How will the new makeup of Parliament affect which policy ideas will gain traction? Is this an opportunity?
Alan – It's unpredictable. The best we can do is to be ready with our policy work, be persistent, to be ready to take advantage of policy windows when they open.
Sherri – There may be some opportunities we can see in the current context. Proposals that involve many players, including the private and voluntary sector, ideas around social innovation and social finance appear to be of interest to the current federal government. It's also important to look at government not only with the policy measures that they can create and put forward, but also the kinds of enabling environments that they can help create for voluntary and private sector groups to do their work well..
There is also significant work to be done to help governments understand how they can enable  us to do our work  – e.g., removing restrictions to charities and educing administrative barriers.  .
What advice would you give to nonprofits that are just getting started in policy?
Alan – It's critical to (and Caledon does this very well) start with data and a strong analysis that is based in data, not start with a bunch of opinions. The reason for that is that when you get near the end of the road of the policy process, when a government is seriously looking at implementing your policy recommendations, if it turns out that you were wrong about the data they will not only not implement, but won't listen to you again.
Sherri – We have found it helpful  to supplement the data with stories, by talking with  people and finding out what's going on in their lives.  We then try  to move those private troubles into private issues. Part of our role is to understand the situation of someone living  a certain problem and translate that into policy terms – moving the practical into the policy.
A combined approach with data and qualitative information, such as focus groups and  meetings, can help to make policy recommendations that will actually have an impact on peoples' daily lives.