Canadian data
View the online press conference (February 28, 2011)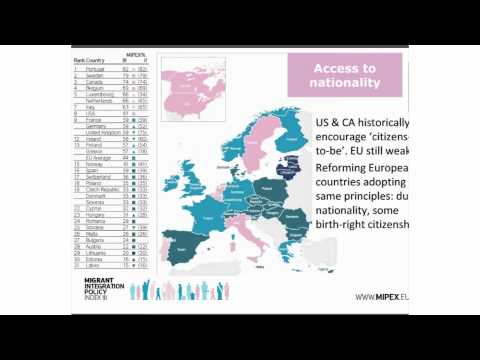 ---
French message follows / Un message en Français suit.
Integrating immigrants: Canada can learn from other countries according to new international study
A new study published on February 28, 2011 by the British Council and the Migration Policy Group compares and ranks Canada against 29 countries in Europe and the USA. It shows that while Canada has some of the strongest policies in place to ensure the integration of immigrants, there are still areas it can improve and learn from others.
The study finds that in Canada immigrant workers and their families benefit from the third best integration policies in the 31 MIPEX countries. Governments have made efforts to ensure that immigrants have near equal opportunities in the labour market and in the education system.
However, the study also points to some important areas Canada could improve, including:
The need to remove the large backlog for processing immigrant applications; in 20 countries under study, there are legal time-limits to do so;
The recognition that non-citizen residents should be given the right to vote in local elections; 18 EU Member States have extended this right to their non-EU residents; and
The importance of giving leaders of immigrant associations the chance to inform integration policy through immigrant consultative bodies; 14 European countries and leading US states and cities have formal structures in place to seek the views of newcomers.
The Migration Integration Policy Index (MIPEX) contrasts and compares integration policies across 31 countries in Europe and North America. It benchmarks whether governments grant equal rights, responsibilities and opportunities for all residents – international standards that have been agreed upon by EU Member States. These high standards are critical as successful integration helps create more competitive and cohesive societies.
For more about MIPEX and to use the online tool: www.mipex.eu; Twitter tag: #MIPEX
Canadian data
In the media
February 28, 2011
For press information, please contact:
Margret Brady Nankivell, Programmes & Communications Manager, British Council
613-364-6237 or cell 613-301-5922; margret.brady@britishcouncil.org
---
Intégrer les immigrants : Le Canada peut apprendre des autres pays selon une nouvelle étude internationale
Une nouvelle étude publiée par le British Council et le Migration Policy Group compare le Canada à 29 pays européens et aux É.-U., et lui donne un classement. On y voit que bien que le Canada ait certaines des politiques les plus robustes en place pour assurer l'intégration des immigrants, il y a toujours certains domaines où il peut s'améliorer et apprendre des autres.
L'étude montre qu'au Canada, les travailleurs immigrants et leurs familles jouissent des troisièmes meilleures politiques d'intégration des 31 pays examinés par le MIPEX. Les gouvernements ont fait des efforts pour s'assurer que les immigrants aient des chances presqu'égales sur le marché du travail et dans le système d'éducation.
Toutefois, l'étude relève certains secteurs importants où le Canada pourrait s'améliorer, dont notamment :
la nécessité d'éliminer l'arriéré considérable dans le traitement des demandes des immigrants; dans 20 des pays étudiés, il y a des limites légales de temps pour le faire;
la reconnaissance que les résidents non citoyens devraient avoir le droit de vote aux élections locales; 18 états membres de l'UE ont accordé ce droit aux non résidents de l'UE; et
l'importance de donner aux dirigeants des associations d'immigrants la chance d'influencer les politiques d'intégration par le biais d'organismes consultatifs d'immigrants; 14 pays d'Europe et d'importants états et villes aux États-Unis ont des structures formelles en place pour obtenir les points de vue des nouveaux-arrivants.
Le Migration Integration Policy Index (MIPEX) met en opposition et compare les politiques d'intégration dans 31 pays en Europe et en Amérique du Nord. Il mesure si les gouvernements accordent également droits, responsabilités et occasions à tous les résidents – des normes internationales ont été adoptées par tous les états membres de l'UE. Ces normes élevées sont essentielles parce qu'une intégration réussie aide à la création de sociétés plus concurrentielles et cohérentes.
Pour plus de renseignements au sujet du MIPEX et pour utiliser l'outil en ligne : www.mipex.eu; Tag Twitter : #MIPEX
Les données canadiennes
Pour plus de renseignements, veuillez contacter :
Margret Brady Nankivell, directrice des programmes et communications, British Council
613-364-6237 ou cellulaire 613-301-5922; margret.brady@britishcouncil.org